Conference hotels
In addition to comfortable accommodation, PYTLOUN HOTELS offer restaurants, congress halls and conference rooms.
Whether it's a corporate event, business meeting, conference, training, or even a corporate gala evening or family celebration, we offer premises that will suit any type of event.
On request we can furnish rooms according to your requirements:
Data projector, projection screen, DVD player, extension cables, Wi-Fi connection, flipchart, laptop, notebooks, office equipment.

Contact:
Ms. Alexandra Werner
Sales Manager
Tel.: +420 608 022 338
Email: sales.manager@pytloun-hotels.cz
---
Pytloun Grand Hotel Imperial ****
Liberec
Pytloun Grand Hotel Imperial in Liberec offers modern and variable conference facilities and complete equipment for conferences, seminars, trainings, etc.
Three separated meetings rooms:
Grand Hall – capacity up to 160 persons
Cafe Imperial VIP Lounge – capacity up to 30 persons
Zlatý Kohout Lounge (Golden Rooster Lounge) – capacity up to 36 persons
Suitable for conferences, trainings, seminars, banquets, weddings and family celebrations.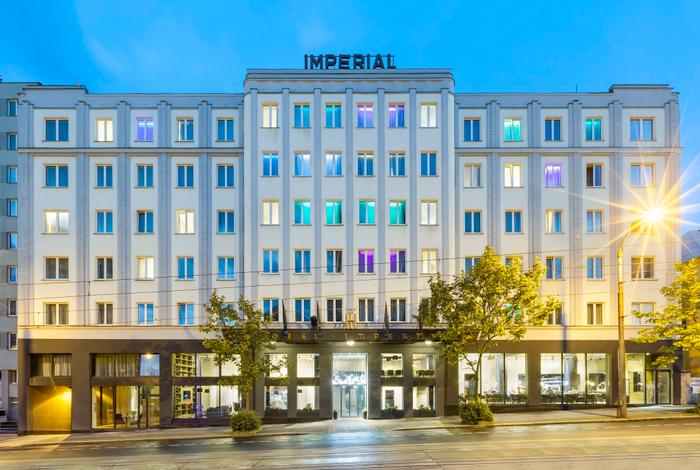 ---
PYTLOUN OLD ARMOURY HOTEL PRAGUE ****
PRAGUE
The hotel offers a conference room, which can be used as a training room as well as for wedding receptions, banquets, corporate parties, cocktail parties, business and company promotion events, business meetings.
Meeting rooms:
Knight's Hall - capacity up to 250 persons
Michna Palace - capacity up to 120 persons
Musketeer's Lounge - capacity up to 50 persons
Shooting Lounge - capacity up to 40 persons